46Brix Special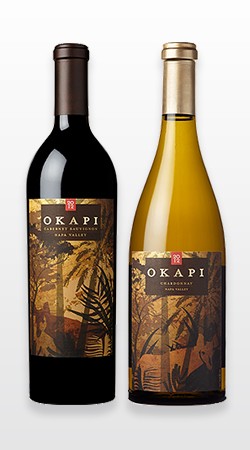 2012 OKAPI Cabernet Sauvignon
*** Double-Gold Winner ***
This estate grown Double Gold medal winner evokes luxuriously textured flavors of blackberries, black plums and cocoa with a smooth, fleshy texture like thick preserves on buttery toast.

2012 OKAPI Chardonnay
*** Crowd Pleasing ***
Everybody loves this atypical Napa Chardonnay, kissing cousins with white wines from Burgundy. You'll detect delicate aromas of French pastries and freshly picked apples and figs, and vibrant, citrusy flavors with a lively minerality that lingers in the finish.