2019 Okapi Rosé of Cabernet Sauvignon
Just a few bottles left!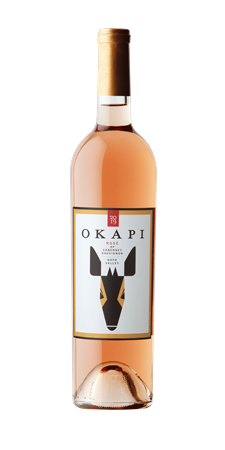 For the 2019 vintage, we picked grapes from Jungle Love Vineyard especially for the rosé, about two weeks before the rest of the grapes reached the level of ripeness needed for the estate Cabernet. We carefully determined which rows of vines would make the cut for our Rosé of Cabernet Sauvignon. An early morning pick on the perfect day provided the desired balance of the acid and sugar in the grapes. We took them directly to the winery and pressed them gently, whole cluster, retaining only the purest and most tantalizing juice. We settled the juice for about 20 hours, racking off any solids, then allowed the long, cool fermentation to begin. Once the wine clarified, all the lovely aromas and freshness of the Rosé remained intact, and we set the bottling date for early March 2020. Magic!
Wine Specs
Vineyard Designation
Jungle Love Vineyard
Bottling Date
March 5, 2020